June programme
These are the contents of the programme – it was presented as a colourful, printed A5 flier
---
Show this programme to obtain FREE REFRESHMENTS at Brooklands Centre from 3.30pm onwards throughout the presentation: TOILETS also at Brooklands.
You will be asked to follow the action around the venues: please co-operate with our stewards, and be especially considerate to elderly or infirm people.
---
MAP OF VENUES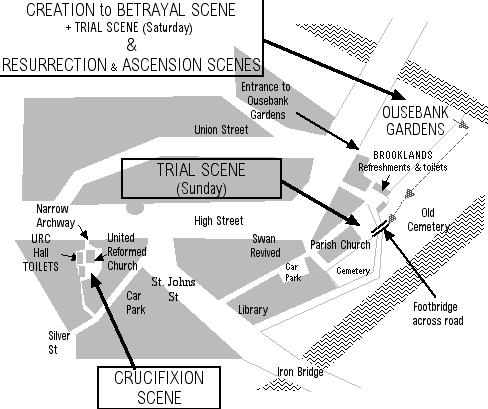 ---
THE SCENES with approximate times
2.30
THE CREATION OF ADAM AND EVE God, Adam, Eve, animals
THE FALL OF MAN Lucifer, Eve, Adam, God, angel
CAIN AND ABEL Cain, Pikharnesse, Abel, God
NOAH'S FLOOD God, Noah, Shem, Ham, Japheth, Shem's wife, Ham's wife, Japheth's wife, Noah's wife, gossips, animals, raven, dove
ABRAHAM AND ISAAC Abraham, God, Sarah, Isaac, angel
THE LAW God, Moses, Everyman/Everywoman, Isaiah, Micah
THE ANNUNCIATION God, Gabriel, Mary, Joseph, Elizabeth, inn-keeper
THE SHEPHERDS The shepherds (Coll, Gib, Daw and Mak), Mak¹s wife (Gill), angel, Mary
3.45
INTERVAL (15 MINUTES)
4.00
HEROD, THE THREE KINGS, AND THE SLAYING OF THE INNOCENTS Herod, two counsellors, messenger, three kings, Mary, Joseph, God, four knights
JOHN THE BAPTIST John, Jesus, God
THE MINISTRY: TEMPTATION AND TEACHING Jesus, two doctors, Arfex, adulterer, adulteress
THE MINISTRY: HEALING, TEACHING AND PLOTTING Jesus, Martha, Mary, Lazarus, beggars, Mary Magdalene, Judas, John, Annas, doctors, Arfex, Caiaphas
THE ENTRY INTO JERUSALEM Peter, John, citizens
THE LAST SUPPER Jesus, Peter, Simon the Leper, Judas
THE BETRAYAL Judas, Arfex, Ruffin, Jesus, Peter, Malchus, angel, Mary
5.00
THE TRIAL OF JESUS Jesus, soldiers, Caiaphas, Annas, Peter, Pilate, Herod
PROCESSION TO CALVARY Jesus, Soldiers, Mary, Salome, Simon
THE CRUCIFIXION Jesus, soldiers, Mary Mother of Jesus, Pilate
THE RESURRECTION and APPEARANCES Pilate, Annas, guards, Mary, Mary Magdalene, Salome, angel, Jesus, Cleopas, Lucas, Peter, John, Thomas
THE ASCENSION Jesus, God
6.00
REFRESHMENTS at BROOKLANDS CENTRE – ALL WELCOME!
---
CAST
The actors play all the roles between them, so you will see many quick costume changes!
The characters played are as follows (in order of appearance):
Ken Heanes Everyman, Shem, Abraham, Joseph, John the Baptist, Judas, soldier, angel
Alison Wale Everywoman, Cain, Mrs Noah, shepherd (Coll), king, mother, Martha, disciple, guard
Mike Thomas God, soldier
Malcolm Jones Adam, Ham, counsellor, Lazarus, knight, Ruffin, disciple, Herod 2, Simon, Cleopas
Fiona Smith Eve, gossip, Micah, disciple, Mary
Mary Harris Apple tree, Star of Bethlehem, blind beggar, disciple, counsellor to Pilate, mourner
Kim Beckley Lucifer, Ham's wife, Isaiah, shepherd (Daw), King, mother, Arfex, disciple, Malchas' cousin, guard
Katy Jones angel, Japheth's wife, mother, Mary (Lazarus' sister), servant, disciple, guard
Adrian Lucas Pikharness, Isaac, messenger, blind beggar, servant
Elise Thomas Abel, gossip, Gabriel, Gill (Mak's wife), counsellor, adulterous woman, Mary Magdalene, disciple
Peter Burgis Noah, Herod 1, knight, doctor, blind beggar, disciple, Peter, soldier
Derek Gibbons Japheth, Jesus
Joc Rose Shem's Wife, inn-keeper, shepherd (Gib), Caiaphas, disciple, guard
Sue Whyte gossip, Sarah, Elizabeth, shepherd (Mak), king, Annas, Simon, Malchas, Salome, Lucas
Jeremy Cooper soldier
Eric Thompson knight, Pilate, disciple, Thomas
Keith Spence doctor, disciple, John
DANCERS, CHOIR, MUSICIANS
Members of The Cedars School Drama Group, Newport Pagnell, directed by Cavan Meehan and Dave Tomsett
Dave Tomsett (concertina)
The Newport Pagnell Singers, Directed by Gerald A. Hill
Matthew Sanderson (cornet)
Jeremy Cooper (clarinet)
PRODUCTION TEAM
Directors Jeremy Cooper and Keith Spence
Production Manager Mike Thomas
Stage Manager Pam Buckle
Design Jerry Siddall, Justin Neal
Set Construction Jerry Siddall, Don Beamish, Mike Cooper, Viv Wilson
Wardrobe Jill Allison, Joanne Jones, Eva Bangle
Stage Crew Barbara Evans Rees, Mike Cooper, Martin Buckle
OUR THANKS TO…
St. Peter & St. Paul Parish Church
United Reformed Church
Newport Academy
Churches Together
Brooklands Centre
Newport Pagnell Town Council
Thames Valley Police
Milton Keynes Council
The Swan Revived Hotel
Newport Pagnell Town Lights Committee
Robin Marsh
---
Presented by the Mysteries for Newport Pagnell Association Mervyn Evans (Chair), Linda Morris (Secretary), Gerald Stratton (Treasurer)