Catch up with Carol Owen (née Edmunds)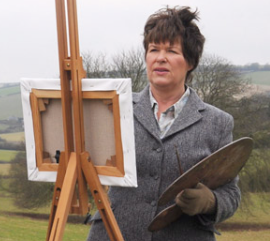 After leaving school I did an Art Foundation Course at The West of England College of Art which was our art teacher Mr Box's old college.  Then I did a three-year BA course in painting and sculpture at Portsmouth College of Art, followed by a teacher-training year at Manchester University.
In 1971 I began my portrait career, initially by doing quick-sketch pastel portraits in Butlins holiday camps where I also learned how to judge Bonny Babies and Knobbly Knees competitions.  In 1991, after twenty years, I finished doing portraits after completing an oil portrait of HRH Princess Anne, The Princess Royal, commissioned by the Worshipful Company of Loriners in the City of London.
In 1974 I began painting coastal scenes, alongside the portraiture and some commercial graphic design work.  I also had spells of teaching, including at the Isle of Wight College and in Parkhurst  Prison.
From 1995 to 1999 I lived in the Cayman Islands where my husband was Governor.  I worked with Government ministers, employees and volunteers to help create a National Gallery for the Cayman Islands.  I also became Art and Culture Editor for 'Britannia' magazine (now renamed 'Grand Cayman').
I was made MBE in 2000.
From 2001 to 2006 I taught art as therapy, leading groups of adults with acute mental health problems in working intuitively with paint.
From 1974 up to the present day my primary focus has been my painting, – mainly coastal scenes – and exhibiting.  I've had exhibitions in Houston (Texas), Boston (Massachusetts), Springfield(Massachusetts), Hawaii, The Cayman Islands, London, and Edinburgh.
My husband John and I now live on the Isle of Wight, and my parents and my daughter (born in 1977) live nearby.  I have eight step-grandchildren.
My website is at carolowenfineart.co.uk