Catch up with Albert Lonn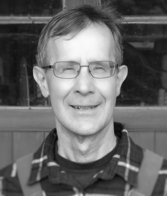 I enjoyed recognising so many of the happy people in the 1966 photo and look forward to the reunion.
What I have I been doing since 1966?
I went straight from CGS to start a 4 year BTech sandwich course in Applied Physics at Brunel University with 6-month 'sandwiches' performing practical research work in non-destructive testing in Sellafield, Harwell and BP research, Sunbury.
After spending a year programming computers for a data processing company I took up a research post investigating the application of computers in medicine at the Royal Free Hospital Medical School (RFHMS). My work on Emission Tomography gained me a PhD from the University of London and started me on a career in medical imaging which lasted until my retirement.
I met my wife Margaret, also a physicist, at RFHSM and we married in July 1975.
In 1977 I joined EMI in Hayes to work on further development of the X-ray CT scanner ('EMIscanner') which had been invented by Sir Godfrey Hounsfield. I continued working for General Electric on Nuclear, PET and X-ray body scanners when they absorbed EMI's medical imaging business.
My wife and small daughter emigrated with me when I worked for GE in Wisconsin USA and we returned six years later with a second daughter born in the USA. We spent our holidays touring the USA and were impressed by the immense scale of the landscape compared to the Isle of Wight.
We live in Beaconsfield and I maintain my health in retirement with gardening, Yoga and Zumba!
What do I remember from School?
When I stood on the shore of Lake Michigan and realised I could not see land on the other side, I recalled the assertion of the geography teacher that you could sink the whole Isle of Wight into the Great Lakes.